I am writing today to report my personal observations during and after my 40-day HBOT treatments from April to June 2019. Following a traumatic brain injury (TBI) which occurred in April 2018, I was left with partial left side paralysis, difficulty walking long distances, and an abnormal gait. I was also suffering from chronic low back pain which was exaggerated post-TBI as well as energy/stamina issues.
Although I had many questions prior to treatment, George and Lori Ann took the time to meet with me and discuss my concerns prior to meeting with Dr. Searfus to discuss the treatment plan. During the initial phase of my treatment, I did notice an increase in both my energy level and stamina, which have continued post-treatment. Another observation that I have noticed is that the low back pain I have been suffering with for over 10 years has gotten much better, and although this was not initially addressed during the treatment plan, it was and continues to be a welcome relief!
The entire staff at Mountain hyperbarics (George, Lori Ann, and Mariah) were all very knowledgable and accommodating throughout the process and I looked forward to my treatment each day.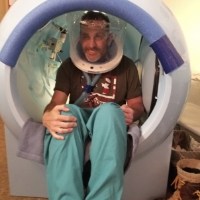 I have struggled for over 40 years with ever increasing fibromyalgia pain, stomach issues and headaches.  I, like most people with chronic health issues, had sought out just about every possible treatment in traditional medicine and alternative care.  I had tried anything that sounded even remotely reasonable, and even some that didn't.  Desperate people do desperate things right?  One treatment that stood out to me in all of my internet research was Hyperbaric Oxygen Therapy, but there didn't seem to be anyone using it for my conditions.  When my doctor said there was HBOT newly available, I was skeptically thrilled – if that's possible.
She prescribed a 20-day treatment for me.  Scared but hopeful, I put on the hood, got into the chamber, and did my first "dive."  Within the first few days, I noticed that the burning, stinging pain of fibromyalgia was noticeably decreased, and my stomach was calm.  I felt so much better, that in a few days, I was able to ride my horse 3-4 days a week instead of 1-2 times a month.
After 20 days of treatment I went to our Welsh-Cob national horse show and rode in it for the first time in 20 years!  I returned from sea level to 8,000 feet and began aching.  My doctor had warned me that fibromyalgia may take some ongoing "maintenance" treatments, so I called and booked one.  I hobbled into the clinic, crawled into the chamber, and read a book through my dive.  When I came out, I stood up, took a step, and got the surprise of my life.  I was 80-90% better!  I was amazed!
I find that one maintenance treatment per week is perfect for me.  I am so grateful to have Mountain Hyperbarics here in Durango, and to George and Lori Ann for their professional and caring therapy.  I have a few friends that I am encouraging to try HBOT – that is how much I think it helped me.
Thanks George & Lori Ann!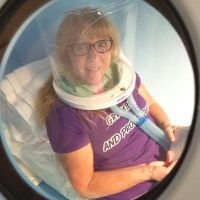 Early in 2018 I was experiencing the "typical" symptoms of a traumatic brain injury (TBI).  This is not to say that they had just materialized suddenly. The fact is that I had been living with these symptoms for decades.  I had been treated for the headaches, including migraines, inability to sleep well and emotional components previously with various medical and non-traditional approaches.  Unfortunately, the treatments only focused on the symptoms and not on the actual injury to the brain.
It was not until Kirtsen Searfus, M.D. diagnosed me with a TBI and set me on a course of treatment that included HBOT. Within the first ten treatments I experienced dramatic improvement.  By the time the full course of treatment was complete I was symptom free.
The Hyperbaric Oxygen Therapy Treatment changed my life.  I am headache free, able to sleep and the emotional swings I experienced are now in the past.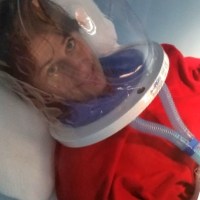 As a result of an auto accident, I had some neurological issues that included some painful migraine headaches.  I also had some lingering emotional issues as a result of these headaches.  These issues went away during my hyperbaric treatment and I am very satisfied with my situation now.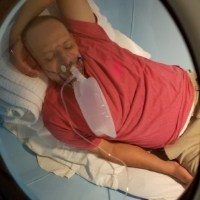 I am a mother of a 16 year old boy who sustained a traumatic brain injury in March of 2018. After 6 months of hospitals and rehabilitation facilities, he came home to live and fold back into the community. Between a part-time school schedule, physical and hand therapies, his schedule was packed. However, we made time for the 7 week, 1 ½ hour per day, 6 days a week for the unknown hyperbaric oxygen therapy. Based on some research and a couple of recommendations, we gave it a try.
Starting with Dr. Searfus and her desire to heal with empathy, she provided us with a broad overview of what we might expect. Her professionalism combined with her genuine caring came across every time we saw her in the waiting room and her interest in how our son responded to the treatment.
The hyperbaric staff was also as compassionate and professional. Each visit was met with friendly interest as to my son's progress. The process is slow, but the progress shown was phenomenal. The word finding and conversation flow became much more natural. His ability to mostly keep up with peers in everyday conversation became a reality. His reading scores as tested by the Nation STAR Reading Program, increased during his therapy in the hyperbaric chamber by multiple grade levels. This is an outstanding therapy for brain injuries and I, seeing first hand cannot recommend it enough. Time permitting, we are wanting to continue with this therapy as it has proven to be a success for my son.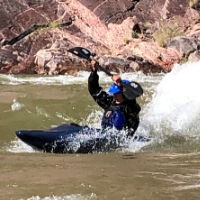 Mountain Hyperbarics is a wonderful place to increase your health and your longevity.   By increasing the oxygen content in your body, you are able to fight infection, help cure diseases and even improve vision.   My vision is greatly improved partially by using their oxygen chamber.

In my case, my vision was too poor to drive and now I am on the road to better eyesight through the use of hyperbaric oxygen which Mountain Hyperbarics provided.   My vision improved 30 points from 20/80 to 20/50 in just 3 weeks.  I can now legally drive.   And the owners of the business, George and Lori Ann Glass, are both delightful people, who listen well and are truly concerned about your welfare.  They are educated and trained to give you the best service possible when using the hyperbaric oxygen chamber.  They are responsive and the facility they have is clean and scheduling is very workable.

 

The hyperbaric chamber itself has plenty of room in it and has windows in it so you shouldn't feel claustrophobic.   It is a good place to relax and chill out and/or find solitude to read a good book.  (There is overhead lighting if you need it.)  I have been in a hyperbaric chamber in Texas, which was not as comfortable physically, as the one in Mountain Hyperbarics.  It is also a perfectly safe environment.

 There are several reasons why you would do well to include Mountain Hyperbarics in your healing protocol, macular degeneration (vision loss) is one of them. I highly recommend it.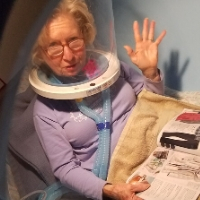 I suffered a severe TBI in a car accident in Novermber of 2005. In 2018, I had a SPECT scan of my brain to allow doctors to see the damage, and the resulting images were not encouraging. At the recommendation of my doctor, I did a forty-day regimen in the hyperbaric oxygen chamber to allow my brain to heal. As a result of HBOT, I have more energy, and I hope to have many more years of cognitive health.
Better Health Care is Our Goal
100 Jenkins Ranch Rd. Suite D, Durango, CO 81301