is to provide a researched, natural therapeutic medical service, that a patient would otherwise not be able to receive.
Our focus is on treating conditions where Hyperbaric Oxygen Therapy (HBOT) is known to be effective. Delivering the treatment in an affordable and accessible way.
This will be accomplished through a collaboration between the medical director, hyperbaric technicians, owners and managers and outside consultations where needed.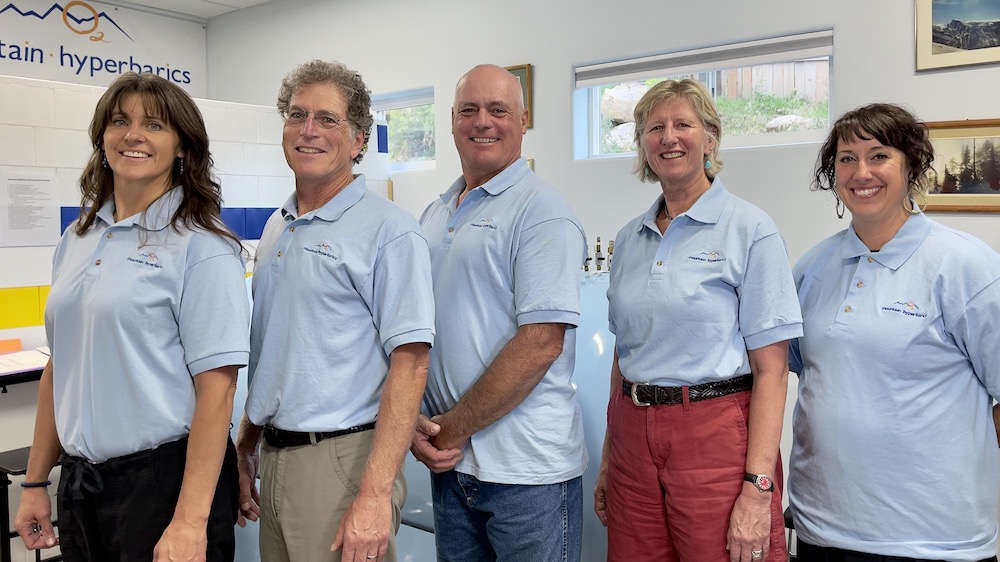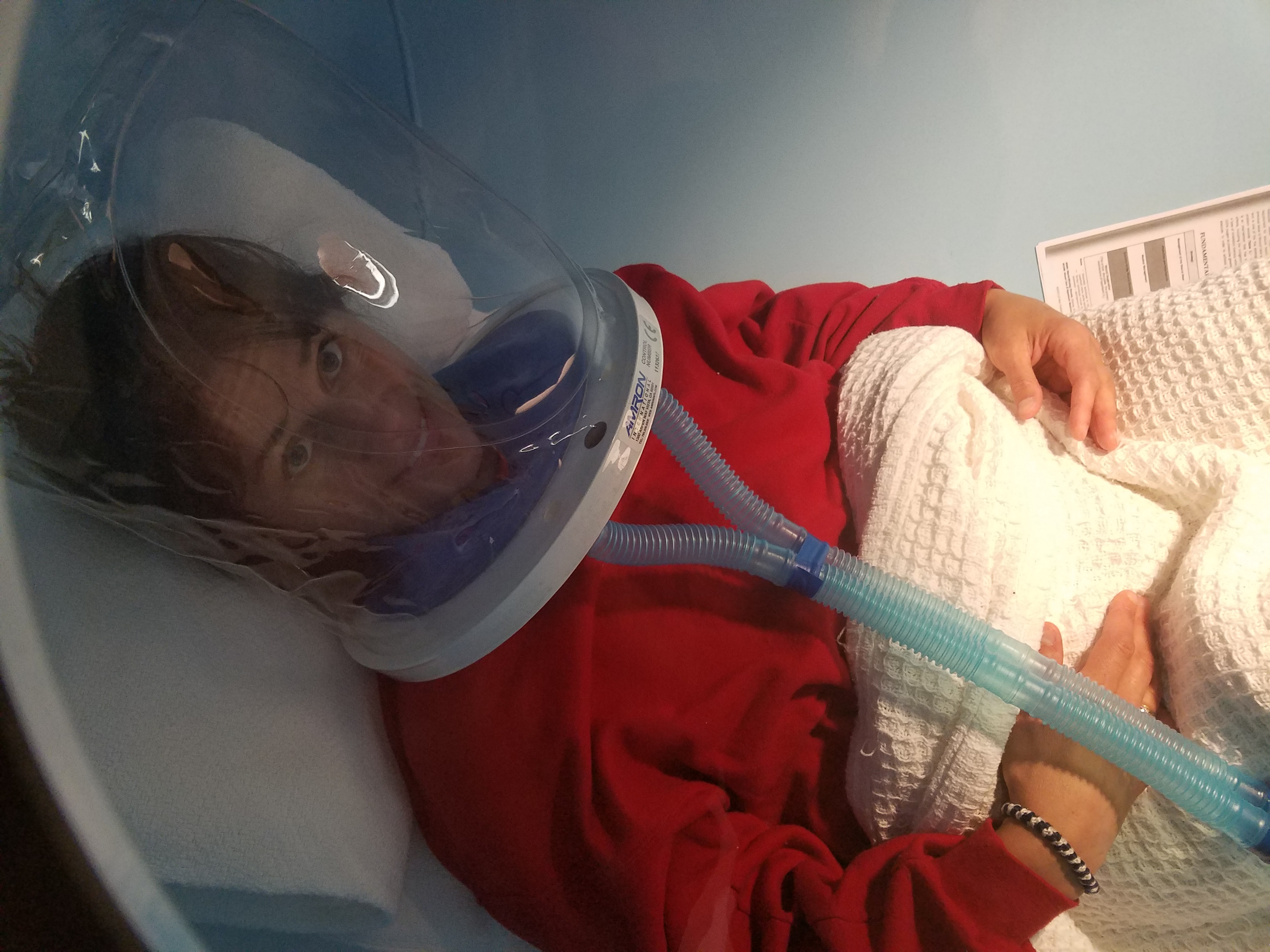 What is Hyperbaric Oxygen Therapy (HBOT)?
Hyperbaric oxygen therapy (HBOT) is a medical treatment which enhances the body's natural healing process by inhalation of 100% oxygen in a total body chamber, where atmospheric pressure is increased and controlled. It is used for a wide variety of treatments usually as a part of an overall medical care plan.
Under normal circumstances, oxygen is transported throughout the body only by red blood cells. With HBOT, oxygen is dissolved into all of the body's fluids, the plasma, the central nervous system fluids, the lymph, and the bone and can be carried to areas where circulation is diminished or blocked. In this way, extra oxygen can reach all of the damaged tissues and the body can support its own healing process. The increased oxygen greatly enhances the ability of white blood cells to kill bacteria, reduces swelling and allows new blood vessels to grow more rapidly into the affected areas. It is a simple, non-invasive, 100% natural and painless treatment.
What are the Benefits of HBOT?
It has long been known that healing many areas of the body cannot take place without appropriate oxygen levels in the tissue. Most illnesses and injuries occur, and often linger, at the cellular or tissue level.
In many cases, such as: circulatory problems; non-healing wounds; and strokes, adequate oxygen cannot reach the damaged area and the body's natural healing ability is unable to function properly. Hyperbaric oxygen therapy provides this extra oxygen naturally and with minimal side effects.
Hyperbaric oxygen therapy improves the quality of life of the patient in many areas when standard medicine is not working. Many conditions such as stroke, cerebral palsy, head injuries, and chronic fatigue have responded favorably to HBOT.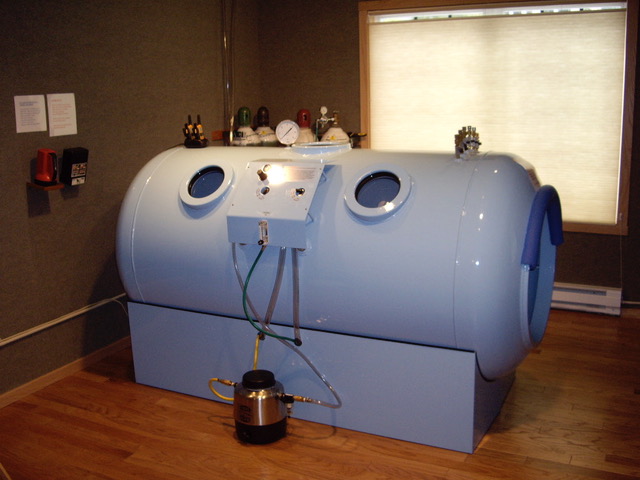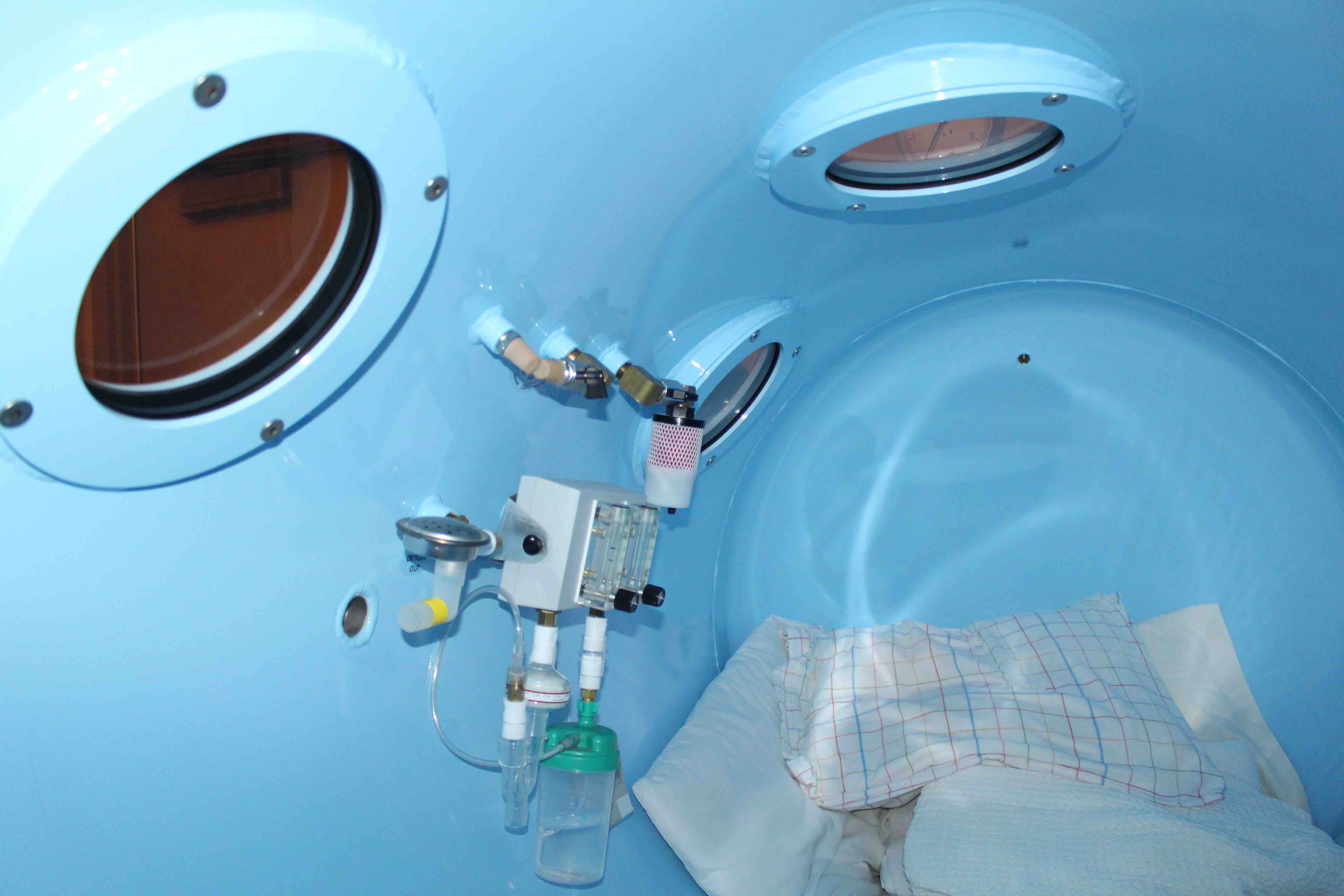 Inflammation can act as a barrier for oxygen to heal. Hyperbaric oxygen chambers pressurize oxygen to move into the liquid part of the blood (plasma), cerebral spinal fluid and lymphatic system, allowing oxygen to flow freely throughout the body and brain to restore health.
Under pressure, inflammation is no longer a barrier towards healing and the body can restore its innate healing abilities. Now able to travel throughout the body and brain in areas where it was unable to reach. Hyperbaric oxygen therapy helps to widen arteries and creates new routes for blood to flow while eliminating and removing harmful chemicals from our tissues.
Reduce inflammation, pain, neuropathy, heal wounds, regenerate tissue, optimize brain function with Hyperbaric Oxygen Therapy (HBOT).
What conditions is HBOT effective in treating?
Hyperbaric oxygen is used to treat all conditions which benefit from increased tissue oxygen availability, as well as infections where it can be used for its antimicrobial properties, either as the primary therapy, or in conjunction with other drugs.
Conditions approved by Medicare:
Carbon monoxide poisoning
Decompression sickness
Gas embolism
Gas gangrene
Acute traumatic peripheral ischemia
Crush injuries and reattachment of severed limbs
Progressive necrotizing infections
Acute peripheral arterial insufficiency
Compromised skin grafts
Refractory osteomyelitis
Osteoradionecrosis
Soft tissue radionecrosis
Cyanide poisoning
Actinomycosis
Conditions typically covered by insurance:
Cancer treatments and radiation damage
Diabetic sores and gangrene
Skin grafts or flaps
Bone or tissue not healing properly
Accident recovery i.e. fractures and bone crush injuries
Burns
Infections that are drug-resistant or non-responding
Cerebral and pulmonary edema
Wound healing
Conditions current research & case studies support the use of HBOT:
Autism and Asperger's
Cerebral palsy
Stroke
Lyme Disease
Traumatic brain injury TBI
Multiple Sclerosis
Crohn's disease
Skin and other infections
Spinal cord injury
Migraine
Alzheimer's
Peripheral arterial insufficiency
Rheumatoid arthritis
Fibromyalgia and chronic fatigue
And more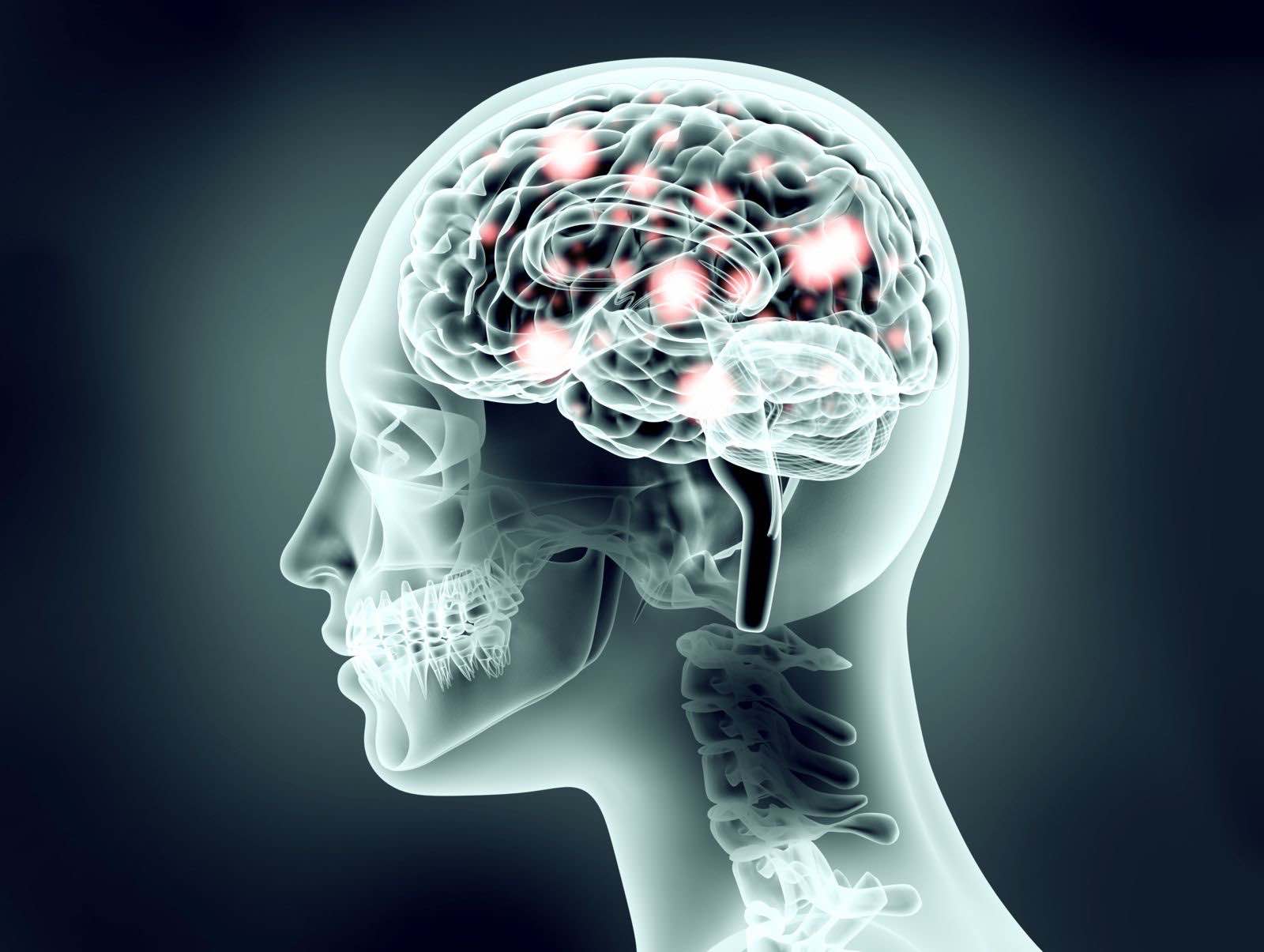 All of our staff are qualified, welcoming, and extremely knowledgeable in the healthcare field including Hyperbaric Oxygen Therapy (HBOT).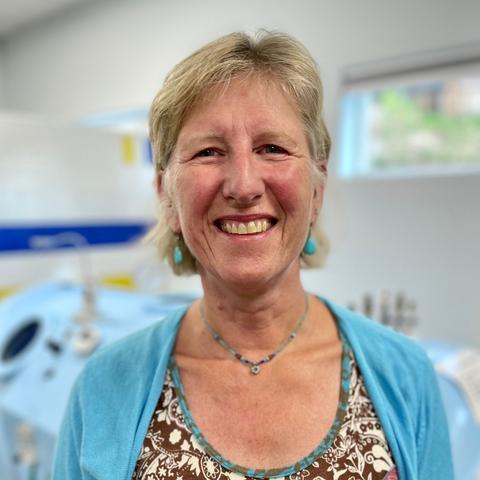 Kirsten "Kicki" Searfus, MD
Medical Director
Dr. Searfus is a Board Certified family physician who has practiced in Durango, CO since 2006.  When she joined Mountain View Family HealthCare in 2012, she became part of the growing Direct Primary Care (DPC) movement where the focus is put back on the physician-patient partnership.
Dr. Searfus has been the Medical Director for Mountain Hyperbarics since it officially re-opened in August of 2018.  She performs the medical intakes, determines appropriateness for treatment and prescribes the optimal HBOT protocol to treat the patient's specific condition. 
She believes HBOT is an important and exciting adjunct in the successful treatment of a variety of challenging medical conditions.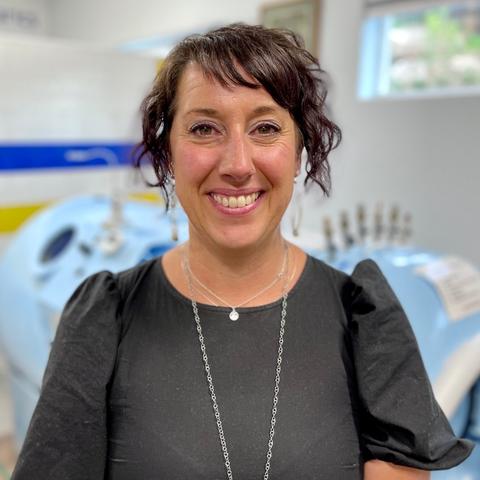 Dr. Emmy Lawrason-Kobobel
Medical Intakes
Dr. Lawrason-Kobobel received her medical degree from Touro University College of Osteopathic Medicine in Vallejo, CA. She completed her residency in Osteopathic Manipulative Medicine and Neuromusculoskeletal Medicine at St. Barnabas Hospital in the Bronx, NY. Dr. Lawrason-Kobobel is board-certified in Osteopathic Manipulative Medicine and Neuromusculoskeletal Medicine.
She opened Durango Osteopathic Care, PC in the fall of 2020. She specializes in cranial osteopathy, as well as other gentle forms of osteopathic treatment. She also has a special interest in nutrition and functional medicine.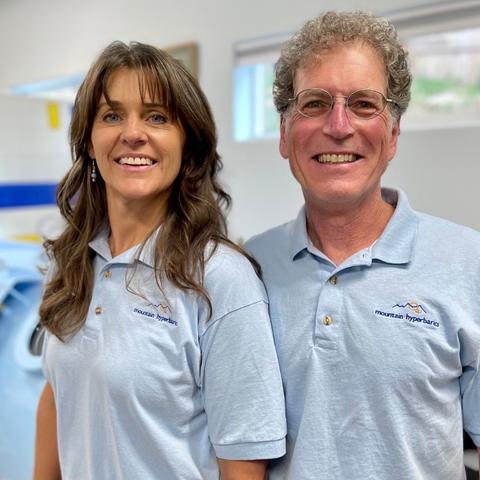 George & Lori Ann Glass
Owners & Managers
George and Lori Ann Glass have a combined 50+ years' experience in health care.  However, it was not their background or experience that inspired them to re-open Mountain Hyperbarics in August of 2018 in Durango, Colorado.  Their inspiration and drive to bring Hyperbaric Oxygen Therapy (HBOT) to those in need of treatment is a personal story. (See Lori Ann's Testimonial).
The inspiration, drive and passion to help those in need, who would otherwise not be able to receive this treatment, was the real story and the beginning of Mountain Hyperbarics' second life.
George has completed International ATMO's Hyperbaric Medical Team Training in San Antonio, Texas. Upon completion and passing of the exam, George received a certificate for the 40-hour course.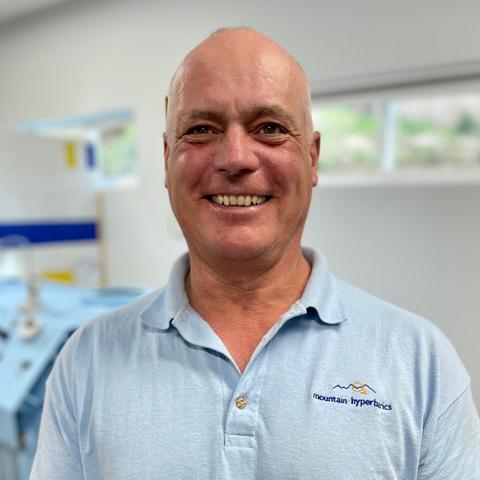 Christian Waelder
Hyperbaric Technician
Christian is a veteran of the U.S. Air Force and is a retired paramedic firefighter with 25 years of service in Fairfax County, Virginia.  He currently provides his expertise in emergency medicine teaching an EMT course at Pueblo Community College.  He is also a volunteer paramedic firefighter for Fort Lewis Mesa Fire Protection District.  He has worked in both emergent and non-emergency patient care settings.  Christian's passion outside of medicine is working with CW Quarter Horses.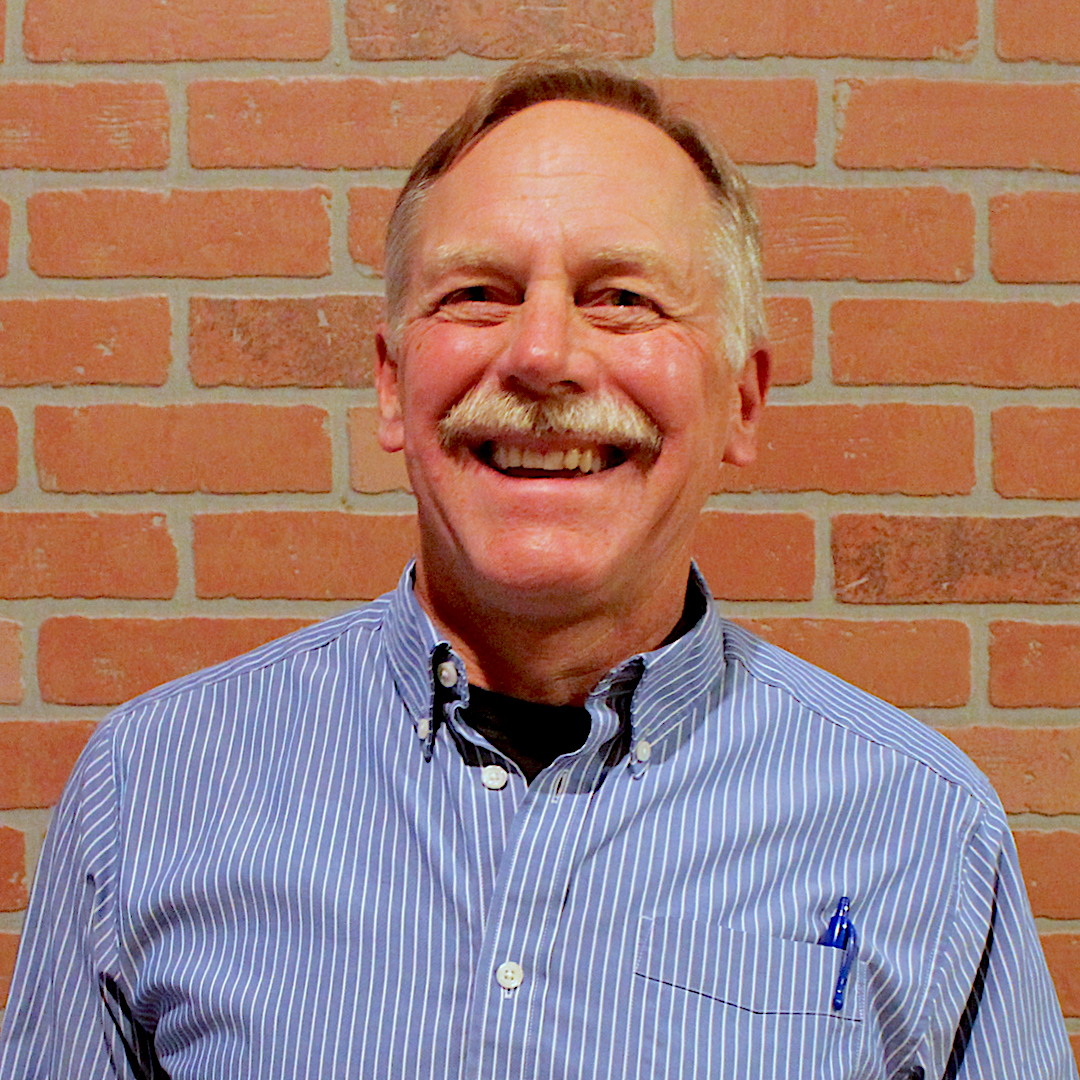 Paul Mattson
In Memorial
Paul Mattson founded Mountain Hyperbarics in Frisco, Colorado in 2007, to help his son with autism and other children with developmental challenges.  Paul had an educational background in Biology and Chemistry and was a Certified Scuba Diver. The concepts of how and why Hyperbaric Oxygen Therapy could help heal a multitude of conditions were quite clear to Paul. 
When Paul moved to Durango in 2018, he brought the hyperbaric chamber with him.  He worked with the current owner's George and Lori Ann Glass as a consultant and as a Hyperbaric Technician.
Mountain Hyperbarics Proudly Supports
America's Mighty Warriors

Community Connections, Inc.

Colorado Children's Hospital through The Durango Derailers

United Way

La Plata County Humane Society

KSUT Public Radio
Better Health is Our Mission
100 Jenkins Ranch Rd. Suite D, Durango, CO 81301